Dunster Museum & Doll Collection
This unique doll collection was started by Mrs Mollie Hardwick in her Dunster cottage in 1957, and was given to the Memorial Hall Committee on her death in 1970 so that her doll "family" could stay together and become the village museum that she had hoped to create.
Failing health had prevented Mrs Hardwick from getting about or travelling abroad, so the world and its dolls came to her as relatives and friends collected them on their travels. Then as her collection became known she received many unexpected gifts – a tradition that continues today.
Puppets from the collectionIn spite of a burglary in 1990, when 32 of the older dolls were stolen (they have never been recovered), there are many old and interesting dolls to be seen, which come from many different periods, and many are in their original clothes. Old dolls can be compared with those from the second half of the 20th century to provide a fascinating contrast. There are Artists' and Fashion Dolls and a unique collection of 20 "Sasha" Dolls in 1913 period dress, and the Bristol Red Cross Dolls.
A prominent feature of the collection is the wide range of ethnic dolls illustrating the costumes of many lands and cultures. Dolls that will remind visitors of their childhood and nursery rhyme characters familiar to all children are also there. Novelties, such as tea cosy and dressing table dolls, advertising figures and dolls from many unusual materials can be seen.
Part of the doll collectionThe changing displays each year will bring back memories for everyone. Add to this a collection of baby gowns and christening robes; the Dolls' House; a model Garden; dolls crockery and furniture; and visitors can be sure of an interesting time.
Since its opening in 1971 the collection has grown to over 1,300 dolls with about 700 on display each year. It has been cared for by local volunteers who have devoted time and effort keeping this remarkable collection open for visitors to enjoy.
Talks, evening and group visits by special arrangement.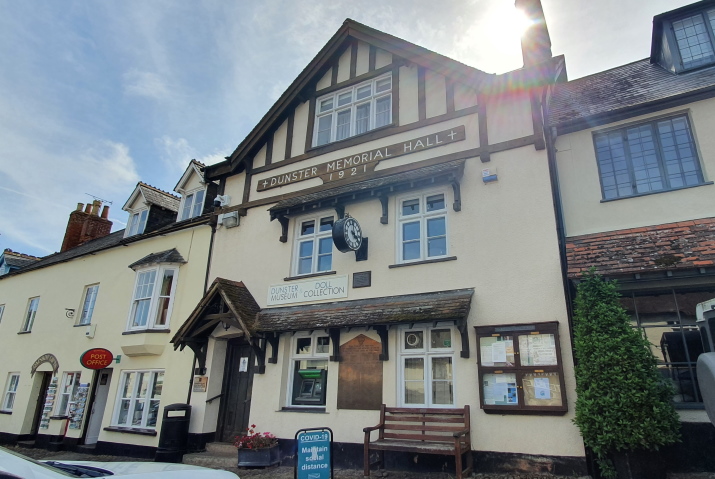 Search for Dunster Accommodation